Dario™ is a personalized, pocket-sized all-in-one glucose meter that lets you monitor blood sugar levels wherever you are in seconds.
Dario™ automatically logs and tracks your blood sugar levels on your smartphone giving you the information you need and the motivation to stay on track every step of the way.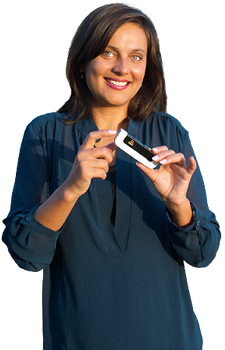 Dario is by far the best glucose monitor I have ever used. It has the same accuracy as many of the top monitors. I love it!
– Shiree Baldock, New Zealand | Type 1 diabetic
All-in-one meter, lancets and test strips
Pocket sized, simple to use
Records your entire diabetes history
Enables information sharing with doctors, parents, etc
Offers actionable insights and alerts
Calculates insulin in addition to sugar and carbs
Get an estimated A1C

Dario is available in Australia:
People with diabetes in Australia will be entitled to subsidies for Dario™ smart meter test strips under the Pharmaceutical Benefits Scheme (PBS) – available in all pharmacies in Australia.