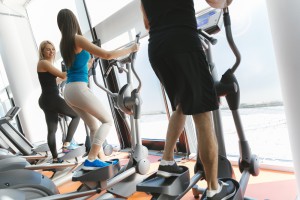 Have you heard the news? Exercise, exercise, exercise! Yes, we all know that we should exercise and the benefits of burning calories and building muscles span across the body's ecosystems that improve health and organ function. But did you ever wonder how exercising can effect blood sugar levels?  For people living with diabetes, understanding how workouts impact your blood glucose is important to avoiding swings in your blood sugar levels and reaping the overall benefits of regular exercise.
Muscles make you move. And they also store glucose. As you start working out, your body will need more fuel to pick up the slack for all the extra energy you're burning – and glucose is the major power source.  The glucose that is accumulated in the muscles gets used up rapidly. At around the same point, your liver will emit glucose into the bloodstream for an extra energy boost. Your body also uses fat for fuel, which is released through adipocytes (fat cells) into the bloodstream. Special receptors on the muscles allow glucose to go from the bloodstream to the muscles to keep them moving.[1]
At the beginning of an exercise session, blood glucose levels can rise briefly before they start to go down – after about 30 minutes of exercise.[2] Because blood glucose levels can shift during periods of exercise, it is important to test with your Dario Smart Glucose Meter before and after your workouts. If your blood sugar levels are high and/or ketones are present prior to a workout, then don't exercise until your blood glucose levels go back down to an acceptable level.[3]
How a workout or a run can affect your blood glucose depends on many factors including how long and how intensely you are working out. For many, the main issue with working out when you have diabetes is hypoglycemia. Exercise may lower your blood glucose for as long as twenty-four hours or more even after you have stopped as it increases your body's sensitive to insulin.  This is another key reason that you should test before, after, and during your workout if you feel any symptoms of a hyper or hypo event. If you have a low blood sugar reading during or after a workout, treat your hypo as you normally would. Then re-test about 20 minutes later and repeat if needed.[4]
Testing your blood sugar regularly, especially pre- and post- exercise, will give you a better overall picture of how working out uniquely affects you. It can be a challenge when starting a workout routine if you find yourself experiencing hypos often, especially if your goal is to lose weight and you need to consume extra calories to treat your hypo. Stick with your diet and exercise plan as much as you can, and always enlist the help of your doctors before beginning any exercise plan and if you need the added support.
[1] Weil, R. (2016). Managing your blood glucose during exercise. BD website.
[2] Goodwin, M.L. (2010). Blood Glucose Regulation during Prolonged, Submaximal, Continuous Exercise: a Guide for Clinicians. Journal of Diabetes Science and Technology. 4 (3) pp. 694 – 705.
[3] Joslin Diabetes Center. (2016). Exercises to Avoid When You Have Diabetes.
[4] American Diabetes Association. (2013). Blood Glucose Control and Exercise. ADA website.