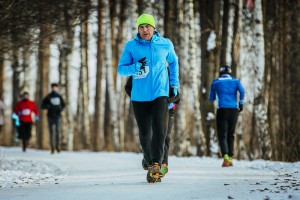 Have you ever thought to yourself, "Gee, it's too cold to exercise today. I better just stay in my pajamas"? If so, then it sounds like you have a case of the Winter Workout Woes. It is important to keep up with your fitness as HbA1c levels tend to rise for people with diabetes in the winter as outdoor activity drops.[1]It's easy to choose your warm, cozy house over braving a trip to the gym or a jog in the snow. You may also find less motivation to get in a workout if you've been able to more easily hide – or maybe not even notice – the extra pounds from the holiday season in your chunky sweater. Don't let a few snowflakes get in your way. Here are some tips and motivational tools for heating up your winter exercise plans.
In some spots on the map, it literally may be impossible to make it to the gym if the roads are covered with ice and you're stuck as home with the kids on their snow day. So make your house your gym. You don't need any equipment to get in a good workout. There are many exercises that can be done only using your body weight or simple household items like a chair or a couple cans of soup. You can use your Dario app to log your physical activity. Some examples for indoor workouts that require no equipment:
Dancing
Crunches
Leg Lifts
Push-ups
Jumping Jacks
If you do venture out into the cold it is important to dress warmly. Wear layers so that you can cool off if you do get too hot. Take care to keep the layer of clothing closest to your body light and made of a breathable synthetic fabric that wicks away sweat from your body.[2] You don't want to be cold AND wet. Some runners report that running in the colder temperatures allows them to run a bit faster than running in the summer sun – so taking a jog outdoors in the cooler months can be an incentive to beat your personal bests for speed. Plus you are burning calories to run and to keep your body warm – double burn![3]
To keep inspired, create a fitness plan with goals. If you can get a buddy to come along with you on workouts it is even better. The accountability to each other is great motivation and makes working out more fun too. Try a 30 day challenge – like the 30 Day Squat Challenge or the 30 Day Plank Challenge and make a competition between friends to commit to the challenge. Creating Facebook Fitness Group among your mates and posting your daily accomplishments can also be a great incentive – the more the merrier.
Remember that every exercise you do can help with insulin sensitivity and give your body a better way to regulate your glucose levels. When you are working out, make sure to test often with your Dario as your activities can impact your blood glucose for as long as two days post workout. Especially if you are using insulin, be mindful of your blood sugar levels as you may need less insulin than normal.[4] So what are you waiting for? Get your winter workout on!
[1] http://www.diabetes.co.uk/diabetes-and-cold-weather.html
[2] http://www.joslin.org/info/Warming_Up_to_Winter_Exercise.html
[3] http://www.runningroom.com/hm/inside.php?id=2739
[4] http://www.diabetes.co.uk/diabetes-and-cold-weather.html