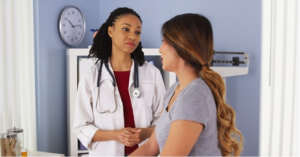 A doctor's appointment can be months in the making, but sometimes last only 10 minutes. Preparing for your visit can help you make the most of your doctor's appointment and discussing diabetes. Being more prepared and having better communication with your doctor is key to improving diabetes management and keeping your blood sugars in better range.
Know your medical history. If you are meeting with a new doctor, be prepared with your medical history like dates of surgeries, medication allergies, and family history of heart disease and cancer.
Do a little homework. Prepare questions ahead of time. Write down a list of any symptoms or complications that you are experiencing.[1]
If there is something in particular that you are concerned about, call your doctor or nurse prior to your visit and tell them your concerns. They may suggest coming for a blood test or other measure prior to your visit. Your medical team can also tell you if you need to do anything like fast or stop certain medications prior to a blood test. This way you and your doctor can have a more informed conversation about the issue at hand when you do finally meet.
Review your blood glucose readings with your doctor. app shares your readings easily with your doctor. You can also have them printed out to take with you to the appointment. Highlight days that you had difficulty keeping your blood sugars in range and talk about what might have led to the instability in your blood sugar for that day.
If you are new to diabetes, make sure your doctor explains the condition to you and refers you to a diabetes nurse or Certified Diabetes Educator.[2]
If your doctor keeps the visit short, try not to take it personally. But demand the time that you need! Spending more time with patients gives doctor's more time to understand the issues at hand and make better treatment plans. However, many public medical services (and private practices also) are pressured to only give patients a small window of time by healthcare governing bodies and insurance companies.
Don't fear difficult topics like depression, sexual dysfunction, and toilet troubles. It is your quality of life and health at stake – many times these issues are indications of bigger issues like heart disease or side effects of medication. You may be embarrassed by these topics yourselves – but trust us; your doctor has heard it all.
The doctor patient relationship is important. If you don't feel like the communication is open with your physician, tell your doctor you are not feeling heard and see how you can improve your relationship. And if it doesn't work out, find another doctor that you connect with better.
Preparing for your medical appointments can help you feel more confident speaking to your doctor about your healthcare concerns and can get you the answers you need to improve your health. Try to take a team approach with your doctor in improving your diabetes management. Have a dialogue with your doctor about what you need from your doctor and what your doctor needs you do to help keep yourself healthy and your blood sugars well managed.
[1] http://www.mayoclinic.org/diseases-conditions/type-2-diabetes/basics/preparing-for-your-appointment/con-20031902
[2] http://www.webmd.com/diabetes/questions-doctor-diabetes