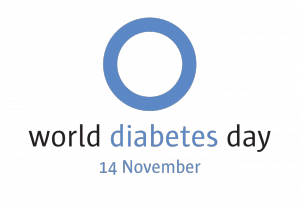 If you haven't heard the news, the entire month of November is Diabetes Awareness Month and World Diabetes Day on November 14. World Diabetes Day falls on the birthday of Dr. Frederick Banting who was part of the Canadian team to first discover insulin, which happened way back when in 1924. A great deal of progress has been made since then, but there is still a lot of room for progress in developing improved treatments for children and adults living with diabetes. So how can you be part of the push to bring diabetes awareness to your community and advocate for improved diabetes healthcare? Here are a few ideas.
Get involved with a local diabetes organization or group. Diabetes advocacy groups and research foundations like JDRF, International Diabetes Federation (IDF), and Diabetes Hands Foundation are all running special campaigns during the month of November. JDRF has a great awareness campaign #T1Dlookslikeme. If you or someone you care for is affected by Type 1 diabetes, you can upload your picture to the JDRF website with a blue filter and hashtag to share on social media sites, like Twitter and Facebook. You can also find ways to connect with these organizations face-to-face by attending monthly meet-ups or annual conferences like IDF conference to be held in Vancouver, British Columbia from November 30 – December 4 (and Dario will be there too!)
Advocate for healthcare change with your elected officials. Amongst the members of our Dario Lounges, we constantly hear complaints about a lack of quality of care or resources for people with diabetes; general practitioners who don't fully understand diabetes, long waits for appointments with diabetes specialists, limits on the number of strips prescribed per month, or those with type 2 diabetes who must pay out of pocket for all of their testing supplies. Don't like it? Speak up! Write to your locally elected officials to let them know you are not satisfied with the level of care you are receiving. If you want to keep it short and sweet, you can probably find your locally elected officials Twitter page and send a few poignant 140 character swings their way. You are not only helping yourself, but potentially thousands of others experiencing the same issues. The more times your local MPs or senators hear about your issue, the more they are likely to push for diabetes healthcare improvements.
Fight diabetes myths and share your personal stories. For the hundreds of times daily that diabetes is brought up in the news as a global epidemic, there are still pervasive myths that follow it. Like if you have diabetes you can never ever eat sugar. Try telling that to someone who is having a hypo and needs to up their blood sugar to avoid passing out. It is can be easy for others to pass judgement on people with medical conditions that they don't understand first hand or have a personal connection to. Sharing your personal story can help battle the untruths that exist around diabetes by putting a name and face to the condition. You can feel free to share your stories on Dario's Facebook page.
Make a commitment to your own diabetes management and self-care. If you are not ready to tackle the global diabetes epidemic, start with yourself. In honor of World Diabetes Day, make a commitment to personal health and reaching your diabetes management goals. Invest in tools that can help you make progress, like the classes to learn about diabetes treatments methods or finally getting that gym membership that you know can help keep your health on track. Celebrate yourself.