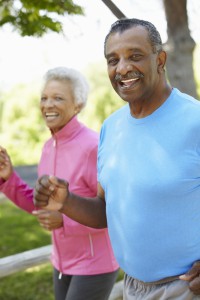 Staying in shape and sticking with a fitness regime is a goal that many of us have to keep healthy and our diabetes under better management. But finding the time and motivation to hit the gym like the Incredible Hulk or a Kardashian isn't always in reach. Everyone has their down days in their exercise routines, but if you miss the opportunity to make it to the gym or out for that 5k run, don't give up completely. There are simple yet effective ways that you can burn up to 100 extra calories to log in your Dario doing the daily things you love to do.
Not to be Rude…But Go Take a Hike! Literally! Getting a 20 minute walk into your day can help you burn up to 100 calories.[1] If you can't find a nice park or trail near you to walk and enjoy the outdoors, you can opt to take the stairs in your office instead of the elevator or go for walks around the block. Have a phone call that you think will take you a while? Walk and talk (just watch where you're going, huh?)
Dance like no one is watching. Dancing is an enjoyable way to burn some calories. And you don't have to put in any fancy footwork like the professionals from Dancing with the Stars or break it down like Beyoncé. Just pump up the volume for about 20 minutes of your favorite songs and let the music move you. Make a point to pick music that is more upbeat to help you keep your heart rate up at a level that can maximize the energy burn.
Dance again… horizontally.  Sex is an awesome way to burn calories; it just depends on how you do what you do and how long it lasts. An entertaining calculator to determine how many calories you burn during the horizontal cha-cha can be found at: http://www.sexcalculator.co.uk/
Clean the house. Definitely not as fun as the previous suggestions, but really giving your home a good scrub down is a great way to burn calories. You'll have to clean for close to 30 minutes to burn about 100 calories[2], so pick a project like making your windows sparkle or cleaning every crevice of the kitchen. Besides burning calories, getting things in your house tidy and organized can make it easier to focus on other personal projects.
Playtime with the kids.Don't just watch your kids play in the park while you sip a latte, have fun with them too! You'll burn some extra calories playing catch, kicking the ball around or helping your child learn to climb the jungle gym or ride a bike. Not only will you expend more calories this way, it a great way to develop your relationship with your children and teach them the importance of play and exercise. Playing with your kids provides a fun and positive influence for both your kids and your waistline.
[1]  Redbook. "25 ways to burn 100 calories just like that". http://www.redbookmag.com/body/health-fitness/advice/g651/ways-to-burn-calories/?slide=4
[2] Sparkpeople. "50 Easy Ways to Burn 100 Calories. http://www.sparkpeople.com/resource/fitness_articles.asp?id=1777