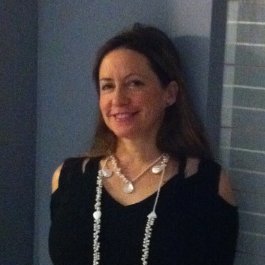 Ann Bartlett has lived with type 1 diabetes since she was 5 years old—over 35 years. As an expert in balancing traditional, non-traditional, and lifestyle health choices, she has been a practicing massage therapist for 24 years for clients ranging from terminally ill to professional and world-class athletes and is owner of the Body in Balance Center, an integrated wellness practice in Alexandria, VA. 
Ann's father was a founding board member of JDRF. A pilot for TWA, he used his international travels to find Type 1 researchers from around the globe and engage them in collaborative sharing.  He successfully fostered relationships in London, Tel Aviv and Milan and helped create the first international Type 1 diabetes symposium in the mid 70s.
In addition to speaking at conferences as a patient advocate, Ann is an expert patient blogger at HealthCentral.com, and serves as a consultant for Sanofis US diabetes.
You've seen the evolution of diabetes technology from the 1970s to today, which developments in diabetes technology do you think have had the most significant impact on overall patient well-being? 
For me personally, the best development has been the CGM. In 1970, we had to use urine and test tape. It was never immediate information, so we had to really know "how we felt" in order to catch a low blood sugar.  I can remember a handful of times waking up to my mom holding my head trying to get orange juice down, also being partially paralyzed for an hour after and trying to work on getting my hands and feet on one side of my body back to functioning normally. Blood glucose meters helped to give immediate information, but it is the CGM that tells you trends and that's been very helpful to cutting out a number of lows and highs. I have always said, it's like having eyes to the inside of my body and being able to follow the trends within your body is one of the most successful tools we have.
What aspect(s) of patient care (and wellbeing) do you feel are still being under-addressed through technology, doctor's appointments, and overall diabetes education?
Under addressed?! Where to begin….as someone who has had diabetes 45 years, the education process blows.  Because I had a solid below 7 A1c, the healthcare system assumed I was an educated patient. In fact, my education was from my years as a pediatric patient, but as an adult, the system assumes that patients will figure it out.  I was always offered nutrition, and only 10 years ago I had my first visit with a CDE, but there was an immediate jump to "you need to start on a pump for better control." Two problems with this, 1) the RD root was not a fit for my needs and 2) jumping to a pump had explanation for why. The advice felt cookie cutter diabetes care. Where were the steps that needed to walk me to transitioning to a pump?
It wasn't until I landed in Gary Scheiner's office at IntegratedDiabetes that I had a full year of working with his team to I understood why I needed to consider a change in my system of care. In my first appointment with Gary, he went over all my diabetes management and said, "Your diabetes management is about 20 years old and it would be wise to upgrade your system of management." From there I worked with his RD/CDE to update my nutrition education, and then we modified tactics for exercise, daily routine and refreshed things like sick day management. After we had a few months we looked at the blood glucose patterns to talk about where a pump may level out the inadequacies of my current system and we spent another couple of months talking about pumps. Also, Gary's team was on board when after 4 years on a pump, I was struggling with a rising A1c and I wanted to change to injections. Again, they were on board with helping me make the right choices for me, and the next step was CGM.
I have had diabetes for 35 years and as an adult I had never had this kind of engagement from a doctor's office. Adult education and refreshers are necessary education and without them we will inevitably fall into complacency in our management.
You have worked hard to stay on the forefront of diabetes research development, sharing that information with your blog readers — what current studies in cure research do you think are breaking the most ground and perhaps holding the most potential?
I love all research and, in particular, I love to understand research that did not meet its end point. Many people like to claim that the cure is out there, but I believe it's so complicated and we still have holes in theories that looking for a cure is a bit like watching a horse race. I have found that looking at research that didn't make it, tells us a story about diabetes we didn't understand and creates new innovation. Let's take antiCD3 trials, all three failed to meet their endpoint, which basically means that there is a missing factor in how diabetes develops and affects the body.  I often wonder if the same hole that affected the outcome of antiCD3 is what causes a couple of other current projects to have to continually increase the dosages to create a cure. I'm watching Faustman Labs and Insulin Independence to see if they run into the same problem.
I love reviewing all research for new iterations of technology and insulin.  For example, I'm eyeing the work being done by Merck on the polymer-based insulin known as smart insulin. I love the fact that the Artificial Pancreas will help to drive technology and insulin to new levels of efficiency. To breathe life, the AP will require an insulin to have faster uptake, like 5 minutes compared to the 20 minutes available now and redundant sensors for the CGM to keep the sensors from wondering. These advancements will prove invaluable to me, whether I choose to wear an AP or not.
People ask me if I am frustrated that we don't we have cure, yet. In honesty, I never get tired of learning what research is revealing.  It keeps me motivated and teaches me things about my own body. It's an endless cycle of learning.
If you could make any one aspect of daily diabetes care simpler (for you, for everyone) what aspect would you choose? 
In a word: data.  Diabetes is so driven by our data and we walk around with a ton of it hanging on our bodies, or in our purses, it's ridiculous how much we are accumulating daily. I would like to see better integration of that data.  I know Medtronic is working to create a platform for pumpers to see data streams side-by-side, but I also think that data collection needs to vastly improve for all people with diabetes, so that includes type 2 population, who barely have basic access to tools and good education. So we need platforms that will give people who are on injections similar opportunities to look at data streams. That may involve combining something like a fitness wearable to help with data uploading. Technology is certainly going to move us in to new levels of self-management and better outcomes.
At Dario, we certainly understand the need for not only great data but the ability to analyze that data and share it with our healthcare team! The Dario app definitely strives to sync all of that data into one easy-to-use platform! (Read more here…)
Thank you, Ann!